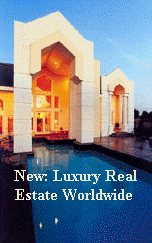 Contemporary Modern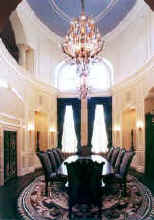 French Neo-Classical Interiors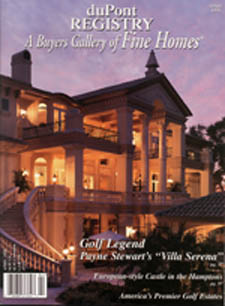 Greco-Roman Palladian Villa
NEW: LUXURY REAL ESTATE SALES AND RENTALS

Begin now to design your Luxury Dream Home!
See here for Contract Procedure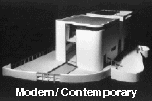 NEW: Contemporary Plans
Starter Estates to Intermediate House Plans
Furniture and Accessories -Ideas!
LINKS: INDUSTRY Resources -- Building Products, Professional Services, and Research Information
EXCERPT: Creating the Custom Home: Establishing Period Style
407/421-6647
New Designs below!
(see opp. side page for more)

Italian Renaissance Villa

Florida Style Mediterranean

NEW Florida Mediterranean

Las Vegas Villa! 12,000 SF

Greek Revival

Italian Tuscan Villa

Italian Villa Rustica

French Mansion

Russian Renaissance Chateau

Mediterranean Grande Villa

Chateau d'Prix Country French

Florida Traditional

Classical Palladian Style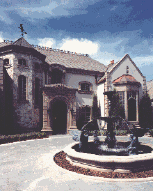 English Norman Chateau
See our Castles!

Beaux-Arts Classical

Victorian Classical

Mediterranean Revival

French Country Manor

Ultra Contemporary Plan Sample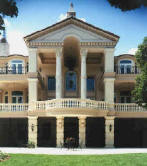 NBA star Tracy McGrady of the Orlando Magic purchased the Payne Stewart residence (above)

French Country Mediterranean

Fantasy Villa or Castle

Detail Palladian Villa
Advertising Space available on this page and Links. Inquire here for more information. We are also accepting select plans from Associate Design affiliates.
Essay: Renaissance Principles: BOXY BUT GOOD!
Cost to purchase most existing plan designs is $3.85/ SF typ. for Permit Set drawings, $2.15/SF for Schematic Design only (see each description for plan contents/availability)
NOTE: We do not have plan books nor send copies of our floor plans unless we are under contract. Please contact us to receive typical contract form, or set an appointment to view most of our work at our Orlando office.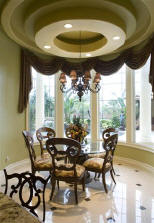 Exotic Mediterranean Revival

Beaux Arts Classical

Mediterranean Revival Grand

Mediterranean Style Villa

Louis XIV French Chateau

'Miami Vice' contemporary

Riviera Toscana

Mediterranean Revival
Architectural Classics Accessories
ULTRA LUXURY
Custom Homes, Estates, Villas, and Mansions by design

Luxury Home Plans Design and large American style Custom House Floor Plans by Florida and Texas Architect. Mediterranean Dream Homes, European Traditional style House plans, for new home design and construction. Luxury homes, blueprints, Florida house floor plans for Traditional and Contemporary house design including French Country Chateaux house plans, Classical Beaux Arts Houses and Estates, Modern Movement Deconstruction, Mediterranean Revival, Victorian, English Tudor plans, Tuscan Provincial, Florida home style and Villa Estates, Castles and Georgian Mansions. Luxury House floor plans per your specifications. Home builder plans, Interior Design, Remodeling, Turnkey Design/ Build in many of the United States and foreign countries.

NEW! CONTEMPORARY Modern House Plans see also: Not So Big House critique
Lower Resolution Web Site loads faster, but this site more current w/larger images
Commence working with renowned Architect John Henry to create a luxury custom estate design in most traditional house Period Styles or in any Avant Garde/ Modern style you have in mind. Award Winning work includes luxury home plans and classical designs in period Contemporary/ Modern or European French, Italian, Tuscan Spanish Mediterranean Revival, and other exotic styles. Our specialty is the larger Castle, Estate Home, Chateau, Manor, Villa. For compact Villas and smaller homes, we have two pages of historic Houses with Character for inspiration. Start from zero or begin with an existing floor plan. Consider our Questionnaire as a starting point or send us your ideas now! Together we can create a custom design for the Dream Home you have envisioned! See what our Clients have been saying about our services and one of a kind projects: from concept to blueprint to enjoying the Dream. Please go here to see how to begin working with us. Also see our current Fee Schedule to estimate plan purchases and design fees.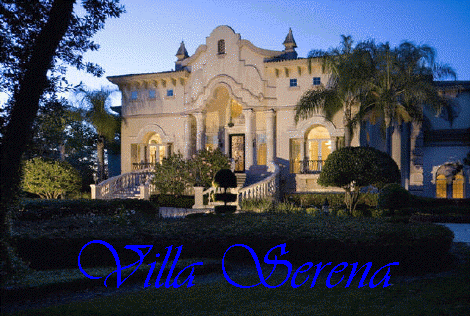 Villa Serena: fabled home of Payne and Tracey Stewart, New Photos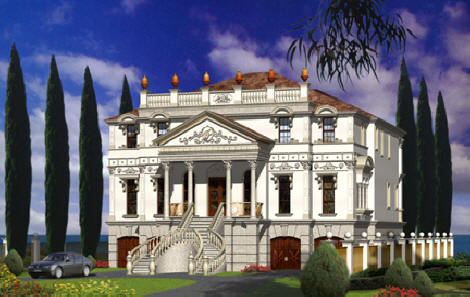 Michael Dris Residence: Greek Revival Villa
NEW French Renaissance Design: Create your own Castle!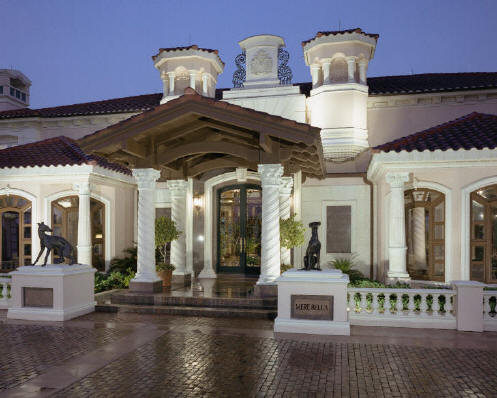 Ultra Luxury Eclectic Mediterranean Fantasy, 15,000 SF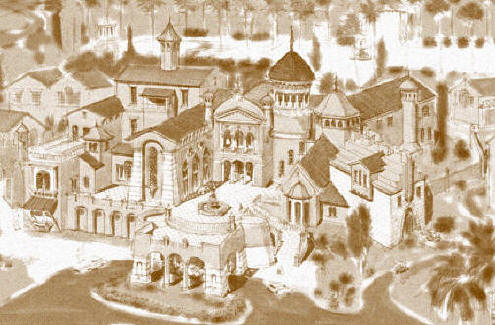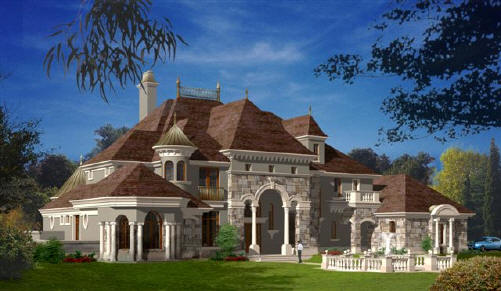 New French Chateau style @ 9,000 Sf, two levels
John Henry Architect insists on a "...close collaboration with the client -- a shared vision, that moves from planning, functionality and budgeting to a final expression of flawless massing, studied proportion, and meticulous detailing, where the skilful handling of materials invokes a timeless composition, a true work of art."

We are pleased and encouraged to offer custom Period Style residential design services for luxury homes and villas/ estates in the United States and internationally. Our premier custom home architectural services are sought by those wishing World Class results in traditional to contemporary styles. We can offer preliminary design only or continue into Permit Set documents, and can finish with detailed specifications. We believe interior architecture and decoration should be handled optimally by the prime architect. Our portfolio illustrates a remarkable range of work including European and Middle East influences ranging from Greco-Roman to Palladian and Renaissance Italianate, French Country Chateau to English Tudor, and Islamic traditional to Modern movement and contemporary. We offer critiques of plans under development, can redesign floor plans and elevations only or continue into construction documents. We can also provide Design/Build turnkey packages. Please inquire. Note that WE DO NOT offer Plan Books due to copyright issues. We have limited floor plans available for viewing on this web but most of our stock plans can be examined at either our Austin, Texas or Orlando, Florida offices by appointment. (Select plan designs are confidential and cannot be viewed.)

"We are moved by the evocative beauty in architecture, concluding that it must be the guiding principle, followed by function and integrity."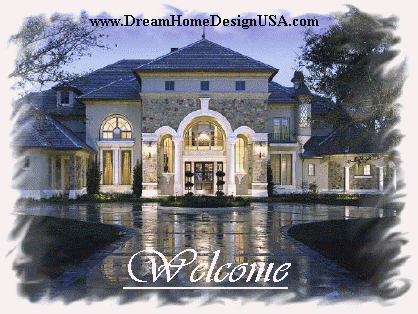 View the following styles: French Chateaux or French Country, Beaux Arts, Palladian, Moorish Palm Beach, California Mediterranean Revival style, Italianate Tuscan Villa, Victorian, English Manor Tudor, Modern Contemporary, Traditional Historical, Southern and East Coast Transitional, and other eclectic Period Styles. Click here to view our newest luxury house plan designs in all styles or go to Castles and Mansions now. View our Portfolio: Classical and Contemporary Period Style Custom Homes

French Beaux Arts Palace

New Urbanism style 4,600 SF design, rear load garages and back courtyard.
Award Winning Masterworks by John Henry Architect, AIA in Period and Contemporary House Styles
Contact architect via e-mail: johnhenry@cfl.rr.com Contact architect by phone: 407/421-6647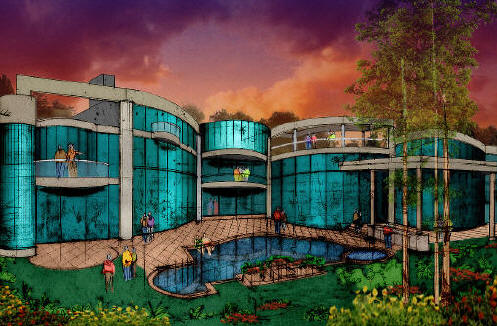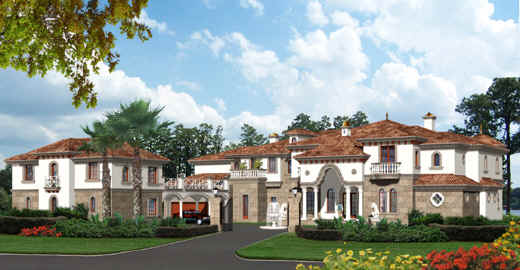 Mediterranean/Spanish Revival style Custom Estate
Contact us to order Custom Designed house plans on your site in contemporary or period styles, any size or budget. Download free questionnaire to begin; work long distance or in person to establish the ideal plan and facade. Continue to develop design at your schedule and make changes until perfect. Interior architecture, specifications, and contract administration are available.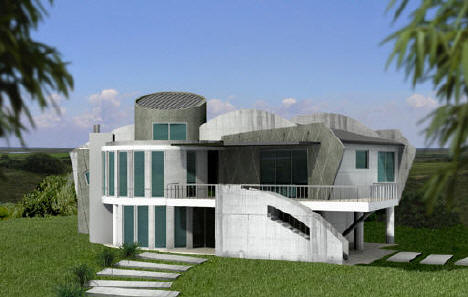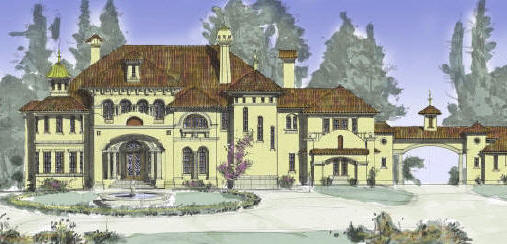 See our newest Mansions here. Mediterranean masterpiece, above, for Barrington Hills, Ill. 13,000 SF on three levels, rear elevation walkout illustrated.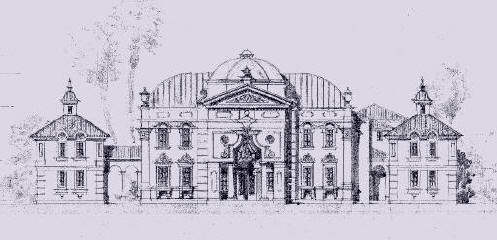 Classical/ Baroque Beaux-Arts Palace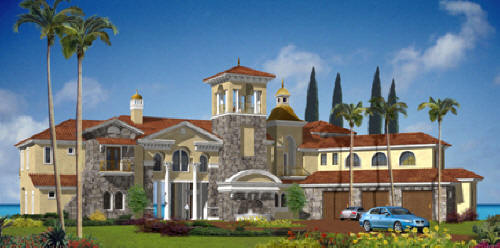 Riviera Toscana, 6,800-7,500 SF (see rear elevation at left column)
Classical European architecture is our forte, although Modern design was studied exclusively by John Henry at Texas A&M University (Master Architecture 1978)

Yes, we can offer Design Services in any state or country accepting NCARB certification or U.S. credentials. We are currently in the process or have created Florida home plan designs and other Traditional and Contemporary house styles in the following countries, cities and states: Beijing/Shanghai China, Stockholm Sweden, Moscow Russia, Malibu and Sacramento California, Park City Utah, San Antonio Texas, Austin Texas, Houston Texas, Clearwater Florida, Palm Beach Florida, Tampa Florida, Jacksonville Florida, Orlando Florida, Delaware, Mt. Airy North Carolina, Las Vegas Nevada, Maryland, Steubenville Ohio, Atlanta Georgia, Alpine New Jersey and Albany New York.

John Henry Architect has been designing Luxury Florida style home plans and Period Classic designs for over 18 years. The office is creating new work in every size, style, and price range. Please contact the Architect to discuss your specific needs and request a proposal.

Creating the American Luxury Home Available now on CD- rom. This is a history of the luxury home with sections on working with an architect and builder, style, modern and traditional approaches, etc.

Also, companion volume: Dream Home Design Questionnaire and Planning Kit (right) We have a bundle for both books that you can order here.